6x6 vehicles
Here you can find an overview of various 6-wheel vehicles (6x4 and 6x6), sort by their brand names. In case there is a conversion available, it is listed under the brand of the base vehicle. Some of these vehicles may not be longer available; in that case, we do list them for archive purpose.
Index
ASC International # Australian Patrol Vehicles # Bureko # Burlak 6x6 # Chevrolet # Dodge - Ram Trucks # DZT Tymińscy # Ford # General Dynamics # IBEX # Isuzu # IVECO # Jeep # Land Rover # Marce Fire Fighting # Mazda # Mercedes # Mezcalarmor # Mitsubischi # Nissan # Sbarro # SC Supacat # Steyr # SVI MAX 3 # Toyota # Volkswagen # Volvo # YAMAL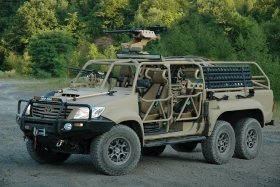 ASC International
Hornet 6x6
The Hornet by ASC International F.Z.E. is a Special Operations Vehicle (SOV), based on a heavy modified Toyota Hilux.
It is available in a 4x4 and 6x6 version.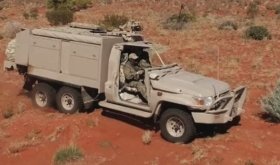 Australian Patrol Vehicles
Australian Patrol Vehicles converts Toyota 70 series pickup trucks into military combat vehicles. Their first vehicles are built on a 6x6 platform.
Bureko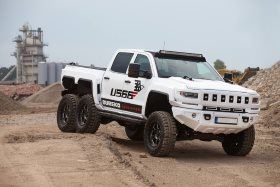 New Bureko 6x6
The new Bureko 6x6 is a performance off-road 6x6 vehicle based on the Chevrolet Silverado V-8 4x4.
The manufacture offers a range of engine tuning options, including superchargers and stroker engines.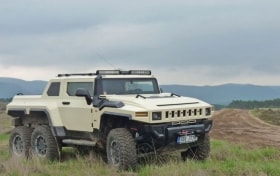 Previous generation
The previous generation Bureko was a Hummer inspired off-road vehicle, based on a Land Rover Discovery 4. It was available in a 4x4 and 6x6 configuration.
The inspiration for the Bureko was the Hummer HX concept from 2006. This is one of the last designs the original company did display, before GM did pull the plug on Hummer.
Burlak 6x6
The Burlak 6x6 is a custom made Russian vehicle for a North Pole expedition.
Chevrolet
The next vehicles are based on a Chevrolet Silverado:
Dodge - Ram Trucks
WC62 & WC63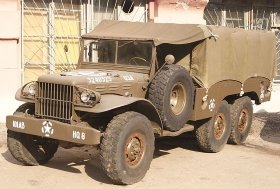 These vehicles were produced during Word War II, for the US army. It is based on the WC51. The WC63 does have a Braden MU2 7500 pound winch.
The vehicle was never sold to civilian customers. Some of decommissioned army vehicles have been modified to civilian style vehicles, using a '50's cab.
Read more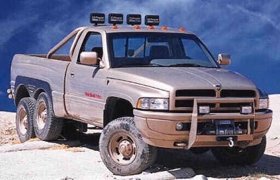 Ram T-Rex prototype
This prototype vehicle was presented in 1997. The V10 powered Dodge Ram 6x6 was a showcase of technology for later vehicles. It never made it into production, despite the fact it was well engineered and journalists did like the way it drives.
Read more
Conversions
DZT Tymińscy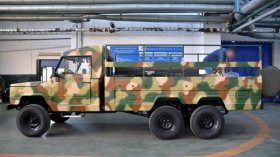 Honker 6x6
The Honker is a Polish off-road vehicle, used by the Polish army. The 6x6 variant is for the army of Nigeria. It can carry 20 soldiers.
Ford
Conversions:
General Dynamics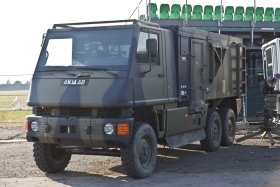 DURO 6x6
The DURO is a family of modular 4x4 and 6x6 vehicles, designed as a tactical army vehicle.
It was first sold by Bucher-Guyer AG, later by MOWAG and now by General Dynamics.
Read more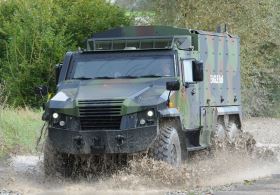 Eagle 6x6
The Eagle IV and VI share their chassis with the DURO. The Eagle V is available both as a 4x4 and 6x6.
The vehicle is also produced at the Swiss MOWAG factory.
IBEX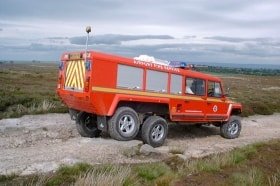 The IBEX is a small volume off-road vehicle build by Foers Engineering Ltd. It is available as a 4x4 or 6x6.
Due to its low volume production, the manufacturer can offer its vehicle in various wheelbases and cab configurations.
The running gear is from Land Rover vehicles, including the V8 petrol and Ford diesel engines used on later Land Rover Defender vehicles.
Read more
Isuzu
Conversion:
IVECO
Conversion:
IVECO Daily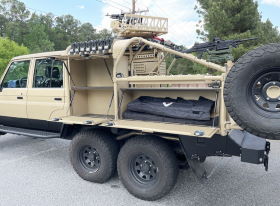 Jankel
Jankel Fox
The Fox 6x6 is the six-wheel-drive version of the Fox family of light tactical vehicles made by Jankel. The base vehicle is a Toyota Land Cruiser 79.
Jankel offers this vehicle in various configurations.
Read more
Jeep
Conversions:
Land Rover
Land Rover never had a 6x6 vehicle in its standard catalogue. The factory however did occasionally build 6x6 vehicles on special order.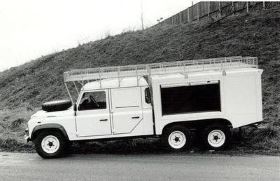 Land Rover 150 6x6 and 170 6x6
These vehicles were built by Land Rover special vehicles in the late '80 and early '90. These vehicles left the assembly line as a stock defender 110 high capacity pickup or 130. The conversion to a 3-axle, 6x6 drive vehicle was done afterwards by the Land Rover special vehicles department.
Read more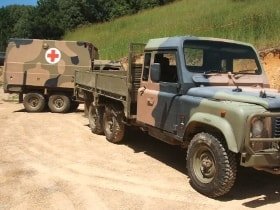 Land Rover Perentie 6x6
The Land Rover Perentie is a nickname for the Land Rover army vehicles build by JRA (Jaguar Rover Australia) in the 1980s and 1990s. Its name is derived from Project Perentie, the project by the Australian army to select new army vehicles. This project included vehicles with a 1-ton payload and vehicles with a 2-ton payload.
Read more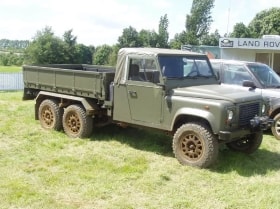 Land Rover 6x6 prototype (2007)
Land Rover did display this prototype vehicle in 2007. LR did show the vehicle on different occasions as a cargo transporter and slightly modified as a combat vehicle. This vehicle was an attempt by the British factory to update the Perentie design.
Land Rover conversions
Over the years, some 6 wheel conversions have been built by various companies.
Discovery conversions
There are a some other Land Rover Discovery 6x6 conversions spotted. Many these vehicles are one-off conversions.
Range Rover conversions
The Range Rover was a popular platform for conversions at a certain point in time. Many conversions have been build on the first generation Range Rover. One popular conversion was the 6 wheel fire engine. Other conversions targeted customers in the Middle East.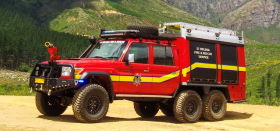 Marce Fire Fighting
The 6x6 Rescue Attack Pumper is a light 6x6 fire truck by Marce Fire Fighting Technologies.
The chassis is a 6x6 conversion of the Land Cruiser 79 V8 turbo diesel.
Mazda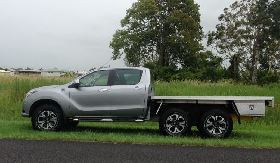 Conversions:
Mercedes
Mercedes G 6x6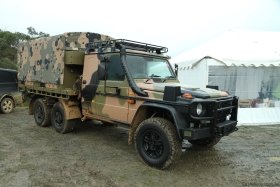 The G 6x6 is the 6 wheel version of the Mercedes G-wagon 4x4, a vehicle which entered the market in 1979. The 6x6 version is an army vehicle. It's not sold on the civilian market. The development of the 6x6 version was disclosed in 2007 when Mercedes did participate in a tender by the Australian Army. Delivery of vehicles started in 2012.
Mercedes G63 AMG 6x6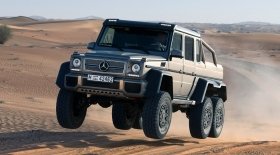 The Mercedes G63 AMG 6x6 is special off-road vehicle build in a low volume from 2013 till early 2015. It's combination of 6-wheel drive, portal axles and 37" tyres make it a competent off-roader. The powerful V8 turbo engine and the luxurious leather interior bring the vehicle to the top end of the luxury car market.
Read more
Mercedes G 6x6 conversions
Lang before Mercedes did offer it's G 6x6, some companies did offer a 6x6 conversion. These conversions were custom build vehicles.
At this moment, we know of one conversion still available. It's based on the original model (2017 and older)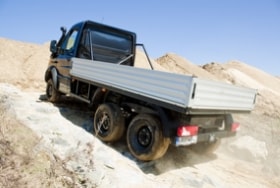 Mercedes Sprinter conversions
The Mercedes Sprinter 6x6 is a factory approved conversion by the Austrian company Oberaigner. This conversion is based on a 2 wheel drive Sprinter chassis from Mercedes.
Read more
The Sprinter 6x4 by IGLHAUT is a tag axle version of the Sprinter chassis cab.
Read more
Mezcalarmor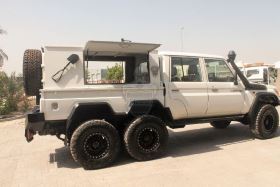 The Dubai based company is a specialist in armoured vehicles. It offers armoured versions of various passenger cars, SUVs, vans and pickups. The company can also deliver armoured cash transporters and armoured personnel carriers.
Mezcalarmor Matta Cobra 6x6
The Mezcalarmor Matta Cobra is an armoured cash-in-transit vehicle, based on the Toyota Land Cruiser 70 series double cab.
Read more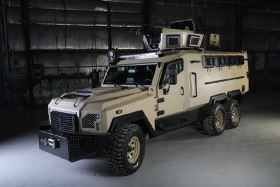 Mezcalarmor Tygra 6x6
The Mezcalarmor Tygra 6x6 is an armoured personnel carrier based on a Toyota Land Cruiser 70 series. It can transport 12 people (2+10).
Mitsubischi
Conversion:
Triton (Australian version of the L200):
Nissan
Nissan Patrol conversions
Nissan Nevara/Frontier conversions
Sbarro

The small Swiss company Sbarro made a name building high-performance replicas, sports cars, exclusive vehicles and concept cars. It did also build a small number of off-road vehicles, including a one-off 6x6 version. It's founder, Franco Sbarro now runs a car design school in France.
The Sbarro Windhawk 6x6 was presented in 1979, it was built on special order.
Read more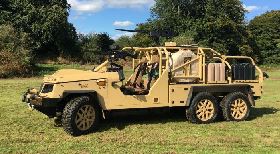 SC Supacat
LRV 600
The SC Supacat LRV 600 is a 6x6 conversion for the SC Supacat LRV 400. It is possible to order the LRV 600 as a conversion kit or a complete vehicle.
Read more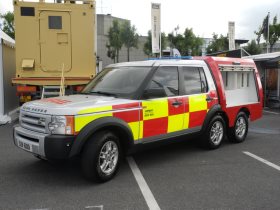 SUV 600
The SC Supacat SUV 600 is a rapid response emergency vehicle based on the Land Rover Discovery.
Steyr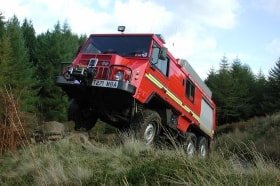 Pinzgauer
The Pinzgauer is a family of high mobility vehicles (4x4 and 6x6) by Steyr. The vehicle was in serial production from 1971 till 2000 at Steyr. At that point, the production rights were transferred to the UK. Fist to Automotive Technik Ltd, later to BAE Systems. This vehicle is no longer in production.
Read more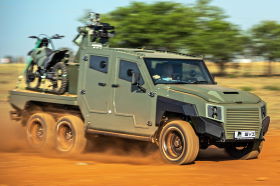 SVI MAX 3
The SVI MAX 3 is an armoured vehicle build on top of a Toyota Land Cruiser 79 chassis.
Toyota
Hilux conversions
Tundra conversions
Land Cruiser 70 series conversions
The Toyota 70 (single cab) and 79 (crew cab) series pickup trucks are a popular platform for 6 wheeler conversions, especially in Australia.
Land Cruiser 200 Series conversions
The next conversions, convert the 5 door SUV into a dual cab pickup truck.
Volkswagen (VW)
Volkswagen Amarok conversions
Volvo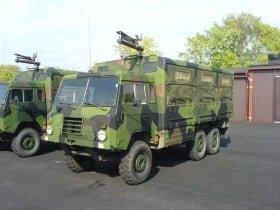 C304 / C306
The Volvo C303, C304 and C306 are a range of light off-road vehicles, designed for army use. Terrängbil is the name used in the Swedish army, in short Tgb. These vehicles are sometimes called the Laplander, a name which was also used for its predecessor (the L3314). The 6x6 versions of the range are the C304 and C306. This vehicle range was in production between 1974 and 1984.
Read more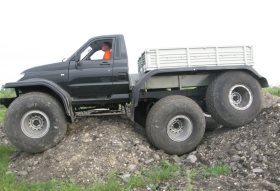 YAMAL
The YAMAL T 6x6 is a light Russian off-road vehicle.
Read more