Bureko 6x6
Overview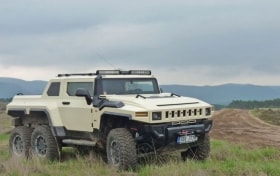 The first generation of the Bureko is a Hummer inspired off-road vehicle by the Czech manufacture Bureone S.R.O. The vehicle is based on a Land Rover Discovery 4. It was available in a 4x4 (2007-2013) and 6x6 (2012-2017) configuration. The mechanical parts are stock Land Rover.
The Hummer HX concept from 2006 is one of the last designs the original company did display, before GM did pull the plug. This HX concept is the inspiration for the Bureko H2X. The company started with a concept vehicle for the Bureko. The pre-orders did prove there was a market for the vehicle.
The engine and gearbox are stock. The transfer case is a custom build unit, based on the original unit. The first and third axle are permanently driven, the second axle can be driven by air operated clutch. The vehicle does have the Land Rover air suspension. The dashboard and other interior bits is taken from the Discovery 4 donor vehicle.
Most of these vehicles have been sold in Russia and the Middle East.
Specs
Engine:
Land Rover SDV6, 3L V6 turbo diesel, EURO 6
256 hp / 188 kW at 4000 rpm and 600 nM at 2000 rpm
A Land Rover petrol engine is a option.
Gearbox: 8 speed automatic (ZF / Land Rover)
Top speed: 180 km/h 0 - 100 km/h: 10 sec
Kerb weight: 2760 kg
GVW: 3490 kg

max tow weight: 3500 kg

Length: 5150 mm
Width: 2170 mm
Hight: 1850 mm
Wheelbase:

axles 1-2: 2700 mm
axels 2-3: 1020 mm

Approach angle: 45
Departure angle: 60
water crossing: 700 mm
Links
Gallery