Conversions
Here we list the various companies which do convert vehicles into 6-wheel vehicles, using a 6x6 or 6x4 drive formula.
Some companies are no longer in business, but we still list these companies to provide an archive of excising conversions.
Index
6x6 Australia # 6x6 South Africa # Arctic Trucks # Australian Expedition Vehicles # Boss Aluminium # Bruiser Conversions # Bullant Engineering # DBL Design # Christian de Léotard # Differential Engineering # Foley Specialist Vehicles Ltd # Hennessey # IGLHAUT # JMACX# K-6 Industries # Kahn Design # Multidrive Technology # Oberaigner # PCOR 4x4 (Patriot Campers) # Pick-Up Systems # Prospeed # Ravon # Schulz # Six Wheeler conversions # Specialised vehicles PTY # TJM Pretoria East # USA 6x6 # Vromos # Wild Boar
6x6 Australia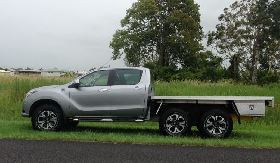 Conversions:
Ford
Iveco Daily
Mercedes
Nissan
Toyota
6x6 Australia started converting vehicles to 6-wheelers in 1984. Their first 6x6 conversion dates back to 1992. Over the years, the company did convert vehicles from various manufacturers.
The company sold some vehicles in the Middle East, including 6x6 vehicles for falconry. These hunting vehicles have an open body and can be based on various chassis.
More background information on the technology behind the conversion can be found here.
6X6 South Africa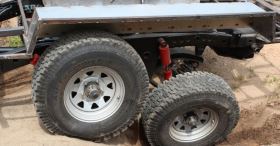 Conversion: Toyota Land Cruiser 79
6X6 South Africa converts the Toyota Land Cruiser 79 pickup (single and double cab) into a 6x6 vehicle. The company does use the technology from 6x6 Australia for its conversions.
Read more
Arctic Trucks
Conversion: Toyota Hilux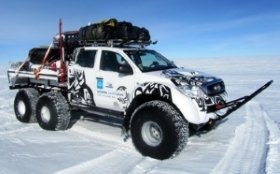 Arctic Trucks is located in Iceland and has branches in Europe, Russia and the Middle East. Its core business is upgrading 4x4 vehicles to make them perform better off-road. At the top of the range, Arctic Trucks has vehicles on 44-inch tyres. Designed to drive on the large snowfields in Iceland.
Over the years Arctic Trucks did build some Toyota Hilux 6x6 conversions. At least 8 Hilux 6x6 vehicles are in use on bases in Antarctica.
Read more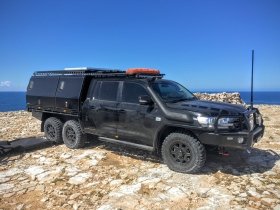 Australian Expedition Vehicles
Conversion: Toyota 70 and 200 series
Australian Expedition Vehicles converts the Toyota Land Cruiser 70 and 200 series into 6x6 vehicles.
Boss Aluminium
Boss Aluminium converts the Toyota Land Cruiser 79 and 200 into a 6x6 version.
Bruiser Conversions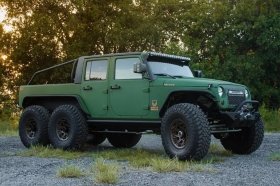 Bruiser Conversions offers various modifications for Jeeps. There main business are engine swaps (LS, Hemmi and diesel).
They built the Jeep Wrangler 6x6 on a clients request for the SEMA 2017 show.
Bullant Engineering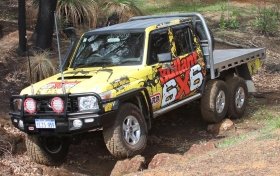 UPDATE: This conversion is no longer available
The section on Bullant Engineering is for archive purpose only.
The Land Cruiser 70-series 6x4 and 6x6 conversions by Bullant Engineering do have custom made rear axles and a coil spring suspension with a load sharing mechanism. Air suspension is an option.
The company does also offer a Land Cruiser 200-series 6x4 and 6x6 conversion.
DBL Design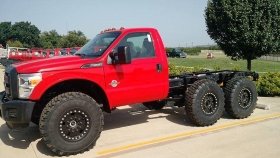 DBL Design builts off-road upgrade parts for the Ford F-550 (and 450). This includes wheels, fenders and suspension parts to fit 42" and 44" tyres.
The company does offer 6x6 conversions for the Ford F-450 and F-550.
Read more
Christian de Léotard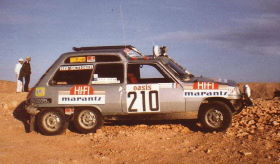 Christian de Léotard ( May 18, 1948 - September 6, 2014) was a French car restorator, who did build some one-off 6 wheelers.
The base vehicles for the conversions are the Range Rover, Mercedes G, Mercedes 190, Renault R5, …
Differential Engineering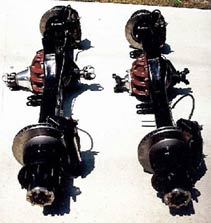 The company differential engineering offers replacement axles for Pickup trucks and light off-road vehicles. This does include modified 9" axles.
These axles can be used in a tandem configuration, thanks to a pass-through in the differential of the first rear axle.
Foley Specialist Vehicles Ltd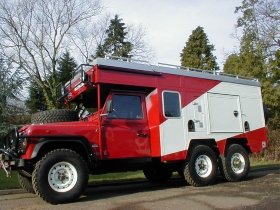 Foley Specialist Vehicles Ltd modifies Land Rovers since 1966. The company offers various services. It can restore, modify or convert a Land Rover Defender.
Some Land Rover 6x6 vehicles, built the Land Rover SVO, have been updated by Foley. Other vehicles started life as a Land Rover 4x4, which converted Foley into 6x4 or 6x6 versions.
The company does also sell conversion kits.
Hennessey
Chevy Goliath 6x6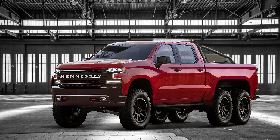 The Hennessey Goliath 6x6 is a unique vehicle built by Hennessey in a limited series of 24 trucks. Its basis is the 2019 Chevrolet Silverado Trail Boss Z71. The truck has a tuned engine, a lift kit and a custom bed. It has 20-inch rims and 37-inch tyres.
Read more
Ford Velociraptor 6x6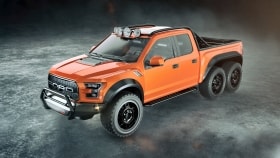 The VelociRaptor 6x6 by tuning powerhouse Hennessey is based on the Ford F-150 Raptor. The conversion does also includes an upgraded suspension (Fox shocks), 20-inch wheels, custom front and rear bumpers, a rollbar and LED lights.
Read more
IGLHAUT
IGLHAUT started converting Mercedes vans into All-wheel drive vehicles in 1983. Over the years, they did convert the Mercedes T1, Sprinter and Vito/Viano vans. Other modifications include a V8 engine swap for the Sprinter.
In 2012 they presented their Sprinter (generation NCV3) 3 axle version. This conversion adds a non-driven tag axle to a Sprinter chassis. The original rear axle does keep it's leaf springs. This conversion was available up to model year 2017.
The GVM is up to 7,5 ton, depending on the vehicle used for the conversion. This conversion can be based on a 4x4 or 4x2 vehicle.
JMACX
Conversion: Toyota 70 series and 200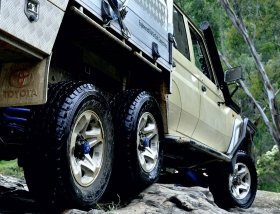 JMACX does offer various modifications for the Toyota 70 series vehicles. These modifications include a stronger rear axle housing with track correction (to match the front axle), chrome molly axles splines (higher torque rating) and a bold on coil conversion kit for the rear axle.
The company does also build a 6x6 conversion kit for the Toyota 70 series and one for the 200 series.
Read more
K-6 Industries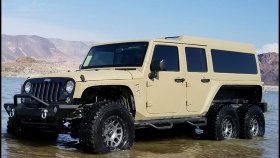 K-6 Industries modifies Jeeps into 6x6 vehicles.
The company did display two vehicles at the 2017 LA auto show, both based on a Jeep Wrangler 5 door.
Kahn Design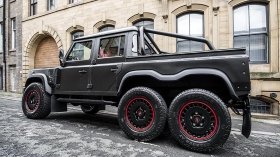 Kahn design offers various customisations for cars, including Land Rovers. The modifications consist of a range of interior and exterior modifications.
The Land Rover Flying Huntsman 6x6 is a custom vehicle by Kahn Design. It is based on a Land Rover 110. The vehicle has a range of interior and exterior modifications.
Read more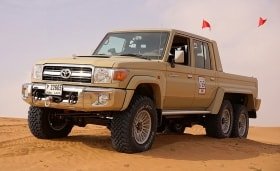 Multidrive Technology (MTD)
Conversions:
Multidrive Technology is part of the Australian Kinetic Engineering group.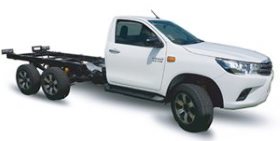 It offers custom build trailers, trays (flatbeds) and vehicle modifications.
These modifications include GVM upgrades for the Toyota Land Cruiser (70 and 200-series), The Toyota Hilux, the Ford Ranger, the Mazda BT-50 and the Isuzu D-Max.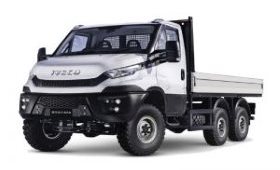 Another modification is the chassis extensions for the Land Cruiser 79, Hilux, Ranger, BT-50 and Iveco Daily.
The company offers 6x4 and 6x6 conversions for the Land Cruiser 79, Hilux and Daily.
The export agent is NVS auto.
Oberaigner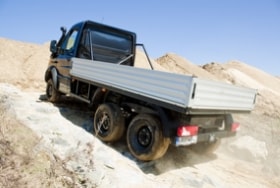 Conversion: Mercedes Sprinter 6x6
Over the years, Oberaigner offered modifications for vans from Mercedes, Volkswagen, Opel, Renault and Nissan. 4 wheel drive conversions are a substantial part of their business. You can find more on the history of Oberaigner here.
The top of the line in the Oberaigner range, is the Mercedes Sprinter 6x6 conversion, available for the versions from 2012 till 2017 (generation NCV3)
PCOR 4x4 (Patriot Campers)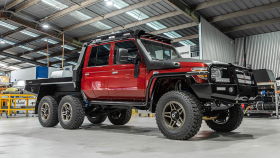 The primary business of Patriot Campers is off-road camping trailers.
PCOR 4x4 is the brand name for trays, canopies and the Super Tourers. The Supertourers are off-road vehicles outfitted by Patriot Campers. The base vehicles are from Toyota, Ford and Ram. The range includes a Supertourer 6x6.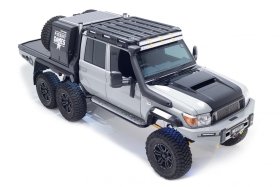 The first 6 wheel drive vehicle by the company was the Megatourer 6x6. Patriot campers did unveil the Megatourer 6x6 on August the 18 2017, at the 2017 national 4x4 outdoors show in Melbourne.
This vehicle is a showcase of what the Australian aftermarket industry can offer.
Read more
Pick-Up Systems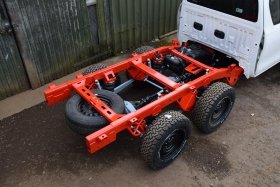 The British company Pick-Up Systems is a specialist in the design, development and manufacture of light commercial vehicle solutions for Fire & Rescue, overhead power-line and arborist/maintenance applications which are based on the Toyota Hilux 4x4 pick-up.
Pick-Up systems offers a Hilux 6x6 conversion, which is used as a base for a fire & rescue vehicle.
Read more
Prospeed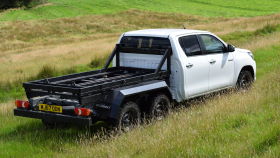 Prospeed is a British company specialised in the construction, modification and tuning of vehicles and components for motorsport and off-road applications.
The company can assemble vehicles in limited production series,
The Toyota Hilux HILOAD 6x6 is a 6x6 conversion for the European market. This conversion replaces almost the entire frame, apart from some cross-members. The rear axles have air-suspension.
Read more
Ravon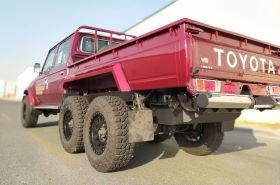 The Dubai based company converts the Toyota Land Cruiser 79 single cab and double cab into a 6x6 drive vehicle. The rear suspension has coil springs with a load sharing.
The vehicle is available as a chassis cab conversion, as a 6x6 vehicle with a bed and accessories or as an off-road camper.
Schulz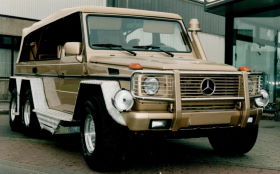 The German company Schultz used to buit Mercedes G 6x6 conversions.
All vehicles are on-off conversions built to client specifications. Due to the high second hands value of these vehicles, some examples have been restored and updated to look like later versions of the G-Wagon.
Six Wheeler conversions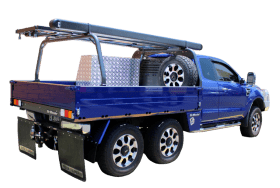 Conversions: Ford, Isuzu, Mazda, Toyota, Volkswagen
This company started converting vehicles in 1985. The 6 wheel conversions add a tag axle (6x4 drive). The leaf spring suspension provides a 60/40 weight distribution on the rear axles.
Read more
Specialised vehicles PTY LTD
Conversions: Isuzu, Ford, Holden, Mazda, Nissan, Toyota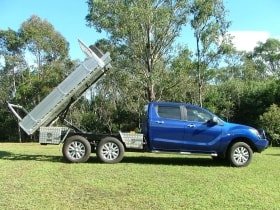 Specialised vehicles PTY LTD offers a range of modification for SUVs and pickups. This includes chassis work (repairs, extensions and modifications) GVM upgrades, cab conversions (single, extra, dual), air suspension, rollover protection, tipper kits, restoration, motorsport services and 6 wheeler conversions.
The 6 wheeler conversions get a tag axle (6x4 drive) and air suspension on the rear axles.
Read more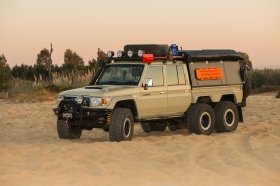 TJM Pretoria East
TJM Pretoria East (South Africa) converts the Land Cruiser 79 V8 into a 6x6 vehicle, which can be outfitted with several options.
It has a TJM suspension and 37" tyres. The truck bed is a modified unit form a Land Cruiser 79 single cab.
USA 6x6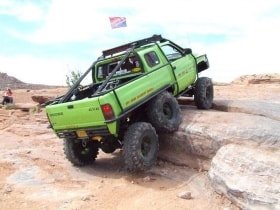 This company does not exist anymore. During the years it was in business, it did build 6x6 conversions of various vehicles (Dodge, Ford, Jeep, Toyota, …). Other businesses were the sales of refurbished ex-military rockwell 2 1/2 axles and wheels.
The website link is a URL at the internet archive. There you can find various website versions of USA6x6 from 2001 till 2008, when the company did close its doors. The company starship custom vehicles, has pictures for vehicles converted by USA6x6 on its website. It appears they have taken over the conversion business from USA6x6.
Read more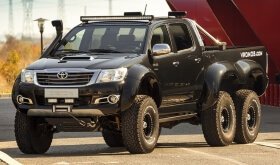 Vromos
Conversions: Toyota Hilux
This 6-wheel conversion by this Bulgarian company, is based on the Toyota Hilux.
Wild Boar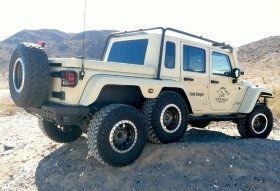 Conversions: Jeep Wrangler
This company offers various accessories for the Jeep Wrangler. The JK6wheeler is a step in a new direction.
There JK6wheeler is a 6x6 conversion of the Jeep Wrangler JK.