Ranger and BT-50 6x6 conversion by 6x6 Australia#
Overview
6x6 Australia converts the Ford Ranger and Mazda BT-50 into a 6x6 vehicle. The rear suspension is replaced by coil springs.
Table of contents
6x6 Australia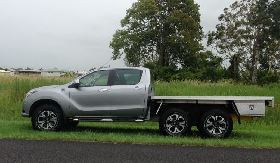 The company 6x6 started converting 4-wheel drive vehicles into 6-wheelers back in the 1980's. Many of these conversions are one-off conversions, specifically designed for the customer.
6x6 conversion
The 6x6 conversion of the Ford Ranger and Mazda BT-50 is almost identical. Both vehicles are the result of a joint development between Ford and Mazda. The 6x6 conversion of this vehicle, is built around the legal limits of a car license in Australia. Both the GVM, GCM and maximum trailer weight are the legal limit on an Australian car drivers license.
Frame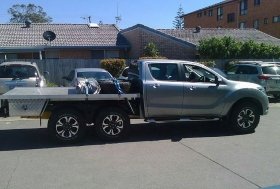 During the conversion by 6x6 Australia, the frame is cut on top of the rear axle. A 1200 mm long frame section is added in between these frame sections.
Axles
The original rear axle is mounted in the third position. The second axle is a modified unit which is sourced externally and does have a pass-through drive. This drives the third axle via a self-locking clutch (centrifugal clutch). Once the wheels of the second axle loose grip, the self-locking clutch locks and the third axle is driven.
Suspension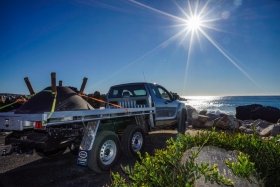 The layout of the rear suspension and the drive of the 3the axle is identical to other conversions by 6x6 Australia. The rear axles get coil springs with a load sharing mechanism.
Specifications
The engines, gearboxes and transfer cases are the stock Ford parts.
Here are the specifications for a dualcab vehicle with a flatbed (or tray). The truckbed weight is around 150 kg.
Tare weight: 2530 kg
GVM: 4495 kg
Payload: 1965 kg
GCM: 7995 kg
trailer weight: 3500 kg
the chassis is stretched by 1200 mm. The total vehicle length is around 6500 mm (it depends on the length of the bed).
Links
Gallery
Video
Pictures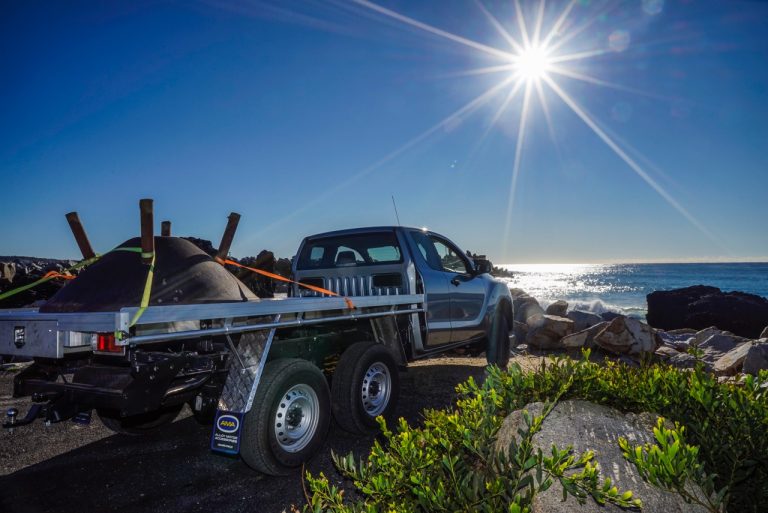 Picture credits: 6x6 Australia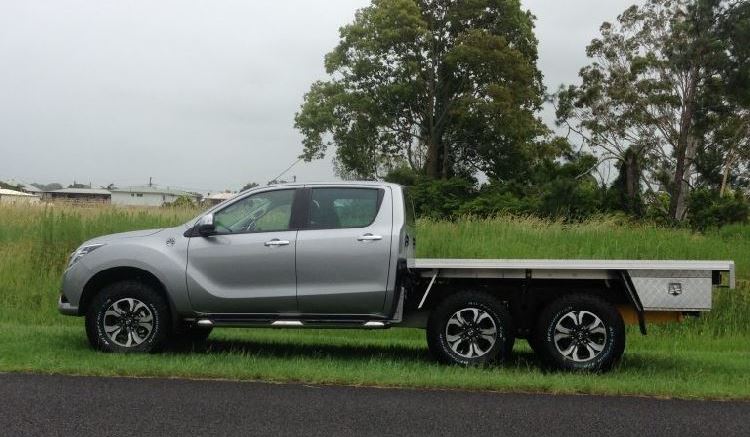 Picture credits: 6x6 Australia