6x6 Australia 6x6 technology
Overview
6x6 Australia did convert a wide range of vehicles to 6 wheelers. Most of these vehicles are 6x6 conversion, some rear wheel drive vehicles have been converted into a 6x4 drive. Most conversions have been 6x6 pickup trucks. Several wagons have been converted in to a double cab pickup truck. Some of the converted chassis have received a custom body by coach builders. A small number of Toyota 70 series and Nissan Patrol 6x6 chassis have been used as mini buses to transport tourist in remote spots.
An overview of the available conversion.
Frame
First step in the conversion is the frame. This is cut in half on top of the rear axle. A frame extension of 1000 mm to 1200 mm (depending on the type of vehicle) is welded in between the both parts of the frame.
The extended frame can be reinforced, this depend on the GVM of the converted vehicle.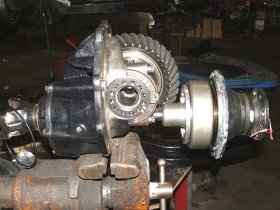 6x6 drive
The original rear axles is mounted in third position. The second rear axle is a modified axles, which has a pass-through to drive the third axle.
Both rear axles are connected via a clutch (power-divider), which engages when the second axles loses traction. At that point, the third axle is driven.
Suspension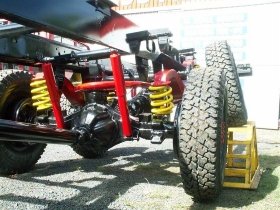 The conversion does have coil springs on the rear axles, with a load sharing bogie on top of these springs. The rear axles have up to 400 mm wheel travel, for an optimal grip off-road.
The geometry of the suspension is designed to provide a (limited) self-steering in corners. When the vehicle takes a corner, the weight shifts to the wheel on the outside of the corner. This pushes the springs in and the suspension arms increase the distance between the 2 rear axles.
On the wheels at the inside of the corner, the opposite does happen. As there is less weight on this springs, the suspension arms decrease the distance between the rear axles.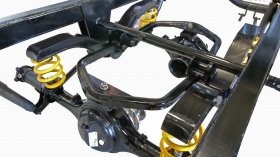 This results in less tyre scrub in corners and an improved road holding of the vehicle.
The downside of this geometry is a decreased grip when de vehicles is drive on a sideward slope. There the self-steering suspension decreases the grip and the vehicle tends to slip sideways.
Links
Gallery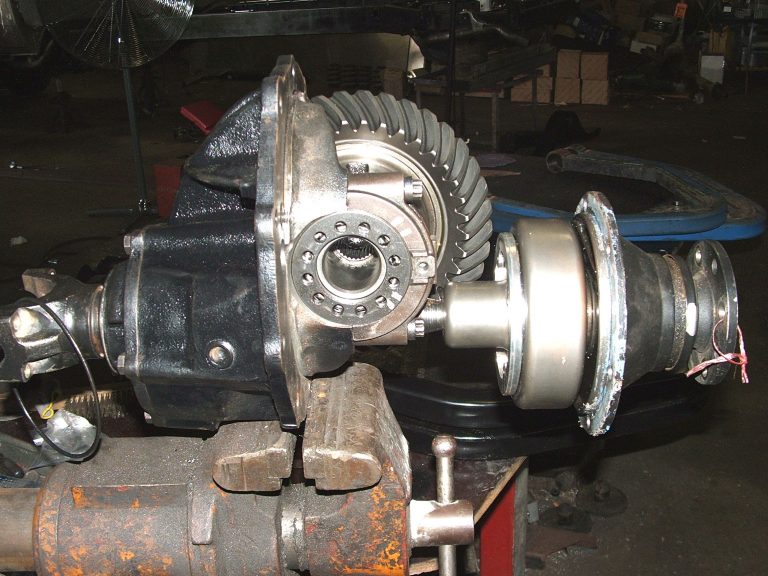 This is the drive-through, mounted in the second axle. The power-divider clutch is mounted.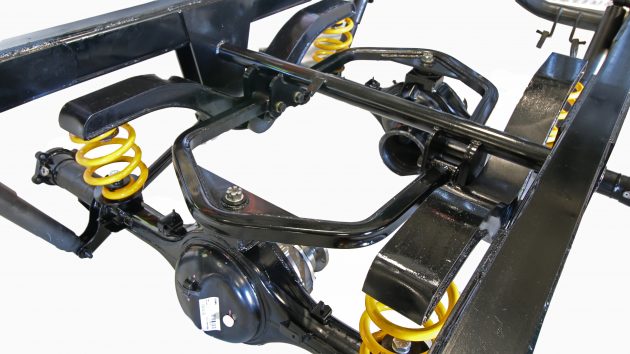 Rear suspension (Picture credits: 6x6australia)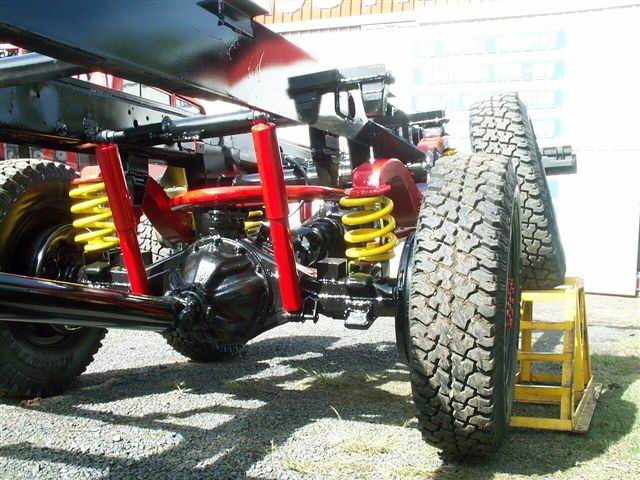 Rear suspension (Picture credits: 6x6australia)