Arctic Trucks Hilux 6x6
Overview
Arctic trucks converts Toyota Hilux pickups into 6x6 vehicles. The 6-wheel drive conversion are offered for polar expedition vehicles and more regular off-road vehicles.
Table of contents
Arctic Trucks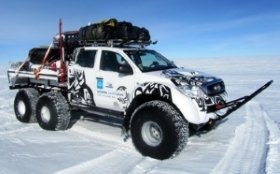 Over the years, Arctic Trucks did build a number of Toyota Hilux 6x6 conversions. Most of these conversions have been built for use on snow in Iceland and the South pole. By using the typical 38" and 44" low pressure tyres, these vehicles have a very low ground pressure. Beside these Arctic exploration vehicles, Arctic Trucks did build a number of Hilux 6x6 conversions on 33" and 35" off-road tyres.
At least 8 Hilux 6x6 vehicles are in use on bases in Antarctica (according to Arctic Trucks). Each vehicle was custom build. Due to the low temperatures and the availability of fuel, the vehicles do use jet fuel mixed with lubricants.
6x6 Conversion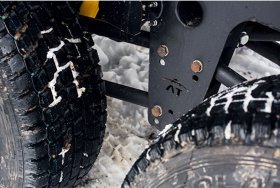 Frame
A large part of the frame is replaced by a new stronger frame during the conversion. Only the front part of the frame is original.
Axles + suspension
The rear axles have a custom 4-link type suspension with heavy duty coil springs and high performance shock absorbers. This rear suspension should have a limited self-steering during cornering, thanks to the axle location around a central point in between the rear axles.
The front suspension is modified
6x6 drive
The engine, gearbox and transfer-case are stock. All vehicles do have a diesel engine. Arctic trucks does offer diff locks on all 3 axles and the transfer case inside the second axle.
A transfer case mounted inside the second axle, splits the power between the 2 rear axles (60/40 split).
Some sources claim the first 6x6 was built as a demo vehicle for Army customers in the north of Europe. These first conversions did have leaf springs on the rear axles.
Specifications
This are the specification for the Hilux 6x6 on 35" tyres, build by Arctic Trucks Russia.
Wheelbase: 1-2: 3085 mm, 2-3 1000 mm
Lenght: 6150 mm (5330 for 4x4)
With: 1995 mm
Heigh: 1870 mm
weight: 2600 kg (2350 for 4x4)
Links
Gallery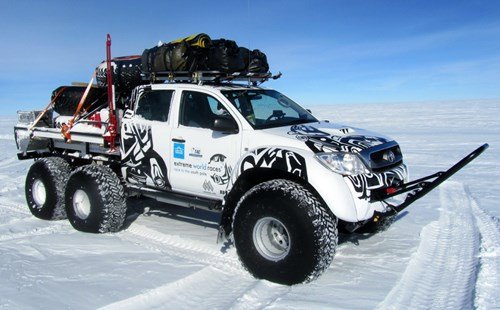 Image credit: arctictrucks-professional.com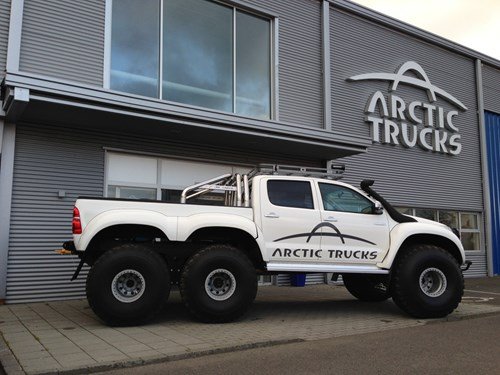 Image credit: https://www.arctictrucks-experience.com/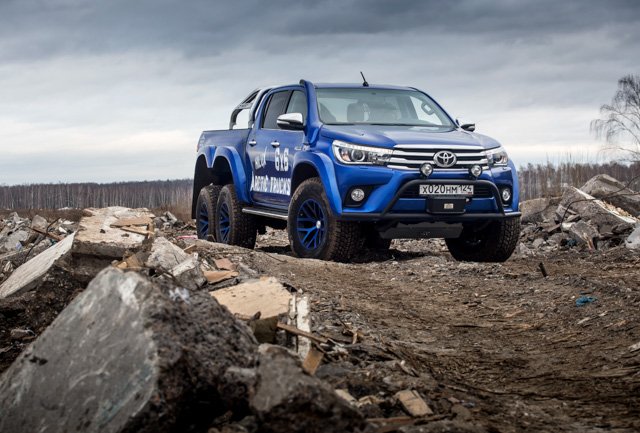 Image credit: motor.ru
The build of an expedition vehicle
Testdrive in Iceland
An older 6x6 conversion (2009)
The vehicle in this video is probably the oldest 6x6 conversion by Artic Trucks.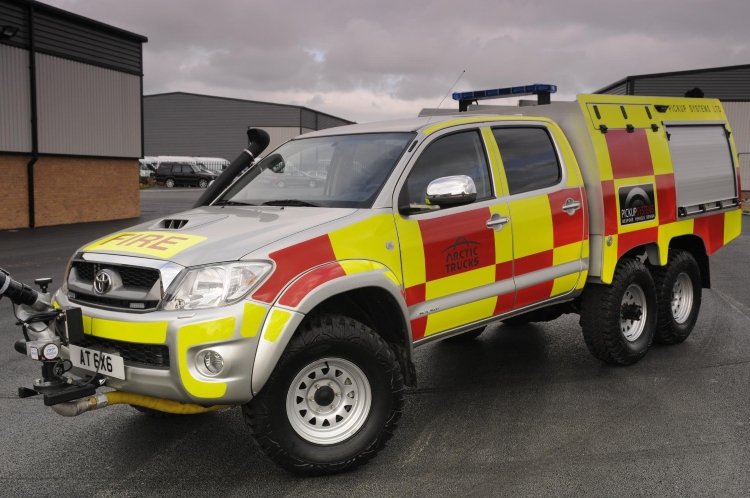 Image credit: Pickup Systems Twitter