Tom's Fahrzeugtechnik Toyota LandCruiser 6x6
Overview
Tom's Fahrzeugtechnik offers a Toyota LandCruiser 6x6 conversion based on the Toyota LandCruiser 79 single cab and double cab.
Tom's Fahrzeugtechnik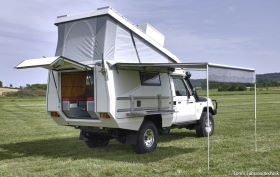 The company is a Toyota specialist and offers various services, including importing vehicles into the EU.
The company builds camper conversions of the Toyota LandCruiser for long-distance travel.
Tom's Fahrzeugtechnik is a German company with international sales partners.
6x6 conversion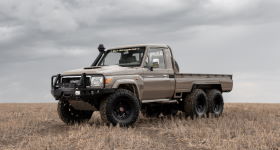 Chassis
The conversion extends the frame by cutting it on top of the rear axle and welding a new section. The rear section of the frame is part of the original one. A reinforcement of the frame rails prepares it for a higher payload. Both rear axles have a leaf spring suspension.
6x6 drive
The rear axles have a permanent drive. (6x4) The standard Toyota transfer case can drive the front axle. (selectable via a second gear stick) The third axle is modified to have its differential off-centre to the left side of the vehicle. This modification creates space for the second prop shaft.
Misc
All six wheels have ABS brakes.
Specs
GVM: 5500 kg
Empty weight: 2900 kg
Engines: V6 4L petrol or V8 4.5L diesel
Links
English site
German site
Gallery
Video
Pictures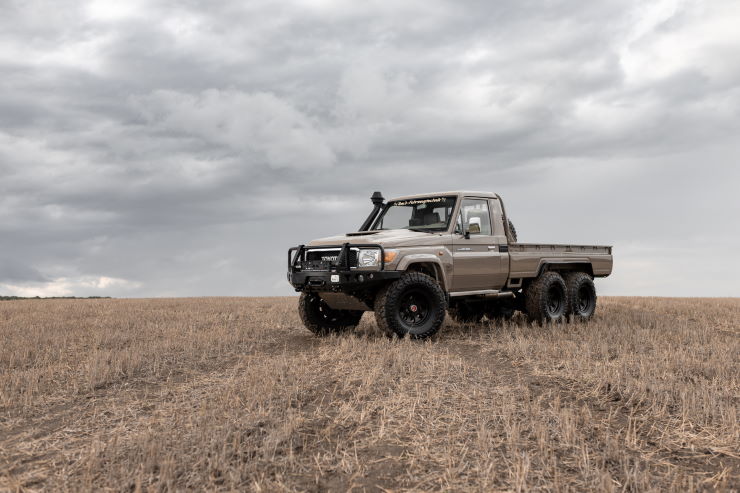 Tom's Fahrzeugtechnik Toyota LandCruiser 6x6 (Picture credits: Tom's Fahrzeugtechnik)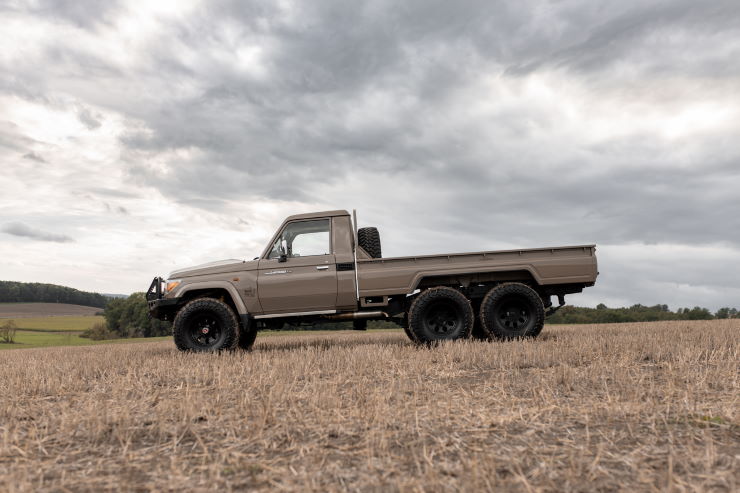 Tom's Fahrzeugtechnik Toyota LandCruiser 6x6 (Picture credits: Tom's Fahrzeugtechnik)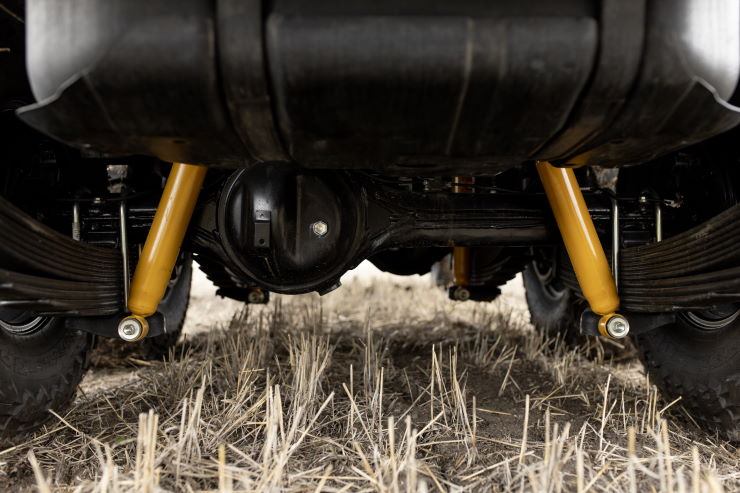 Tom's Fahrzeugtechnik Toyota LandCruiser 6x6 rear axle (Picture credits: Tom's Fahrzeugtechnik)