Mercedes Sprinter 6x6 by Oberaigner
Overview
Oberaigner converts 4x2 Mercedes Sprinter chassis cab vans (generation NCV3), into 6x6 vehicles. This 6-wheel drive vehicles have a permanent 6x6 drive and a low range gearbox. The current conversion is for vehicles up to model year 2017.
Table of contents
Conversion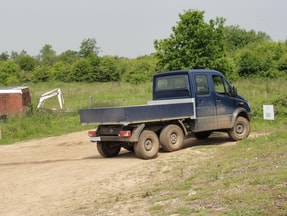 This conversion is based on a two-wheel drive 5 ton (GVM) Sprinter. This chassis cab with dual tyres on the rear axle is converted into a 6 wheel drive version. Oberaigner did show the first prototypes of the Sprinter 6x6 in 2010. The production started in 2012. The conversion is for vehicles up to model year 2017.
Oberaigner offers 2 wheelbases and the choice of a single or double cab.
This vehicle does have the stock Mercedes turbo diesel engines. For the European market these are EURO 6 (emission class) engines. Outside the EU, EURO 3 and EURO 5 engines are used.
The gearboxes are the standard manual of automatic ones from Mercedes.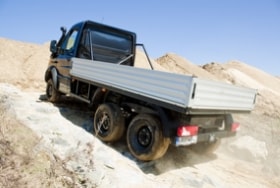 Frame
The vehicle keeps its original frame. Oberainger installs a subframe under the stock frame. This new subframe acts both as a reinforcement of the frame and as the mounting point for the new rear suspension.
Suspension
Both rear axles have coil springs and the top of these springs are connected to an arm which pivots around a central point. Due to the fact this pivoting point is not exactly in the middle of the 2 rear axles, it does give an asymmetrical weight distribution. Under normal use, the two rear axles have a 60/40 weight distribution. The rear suspension was designed this way to reduce the turning circle, as 6 wheel vehicles tend to understeer (the vehicle wants to drive in a straight line).
6x6 drive
Oberaigner installs a transfer case with permanent all-wheel drive and a high/low range gearing (2.81:1). Up to 5 diff locks are available. The second axle does have a build in transfer case (third diff), which sends the power to the second and third axle in a 60/40 split. The transfer case in the second rear axle is very similar to the one on the Mercedes G 6x6. Oberaigner was hired as a subcontractor to design the second axle for de G 6x6.
Specs
Engine: V6 3.0 L, 190 hp (140 kW) (EURO 5 & 6)
Engine: 4 cyl 2.1 L, 140 hp (110 kW)
GVM: 7000 kg (15432.34 lbs)
payload: up to 4000 kg (8814.48 lbs)
Links
Gallery