JMACX Toyota 6x6
Overview
JMACX builds various modifications for the Toyota Land Cruiser, including a 6x6 conversion kit for the Toyota Land Cruiser 70 series and 200 series. This kit replaces the rear frame section and includes uprated axle housings and a coil conversion kit.
Table of contents
JMACX
JMACX offers various modifications for the Toyota 70 series vehicles. These modifications include: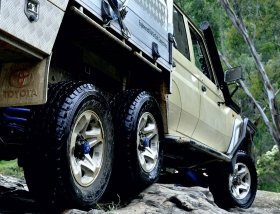 a stronger rear axle housing with track correction (to match the front axle)
chrome molly axles splines (higher torque rating)
a bolt on coil conversion kit for the rear axle
upgraded front radius arms
front swaybar extension blocks to suit lift kits
an upgraded brake booster
the 6x6 conversion kit for the Land Cruiser 70 series and 200 series
6x6 conversion kit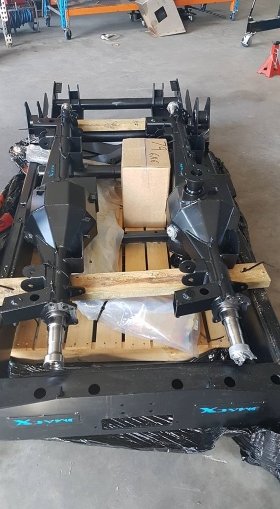 This conversion kit can is only available for approved workshops. A converted vehicle has to be approved (certified) to be road-legal, due to the chassis modifications during the conversion.
Frame
Unlike the coil conversion kit for the 4x4 version, the 6x6 conversion is not a bolt on kit. It replaces the rear section of the frame, using a new frame which has straight rails (unlike the original one). During the conversion, the original frame is cut on top of the rear axle. The replacement frame is welded in place.
The rear cross member has a mounting plate for a winch.
Axles
The rear axle housings are the heavy-duty units build by JMACX, with track correction (for the 70 series) and chrome molly axle splines. The factory brakes, rear diff and locker do fit in these axles. The axle load rating is 3000 kg, which is 700 kg more than the stock 70 series rear axle.
The JMACX supplies its axles with diff locks included.
6x6 drive
A pass-through in the second axle drives the third axle. This setup connects the second and third axle via a centrifugal clutch, which locks when the second axle loses traction. The second axle does have a Ford 9-inch differential. The third axle does have a stock Toyota unit.
The stock transfer case drives the front axle and the second axle.
Suspension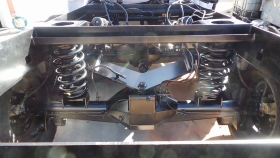 JMACX did base the 6x6 conversion on their coil spring conversion kit for the Land Cruiser 70 series, which was designed to be compatible with the rear suspension from the Toyota Land Cruiser 80 series. Almost all (aftermarket) springs and shock absorbers for the Land Cruiser 80 do fit in this setup. Including the ones from lift kits.
A suspension lift of up to 4 inches is possible. In which case you can use 35-inch tires.
A GVM of 6300 kg is possible with this conversion kit. It depends on the load caring capacity of the rear springs.
Other modifications
JMACX recommends upgrading the next components during a 6x6 conversion:
the clutch
the brake booster (JMACX does offer a stronger brake booster)
Extra fuel consumption
Test by JMACX did show the 6x6 conversion will increase the fuel consumption by 1 l/100 km.
Specifications
Land Cruiser 79
Car license
Truck license

GVM: 5300 kg / 5800 kg
GCM: 9800 kg / 10300 kg

Extra weight conversion: 350 kg / 772 lb
Length: up to 6600 mm / 259.84 inch
Land Cruiser 200 series
Car license
Truck license

GVM: up to 6000 kg
GCM: 10495 kg
Links
Gallery
Video
Pictures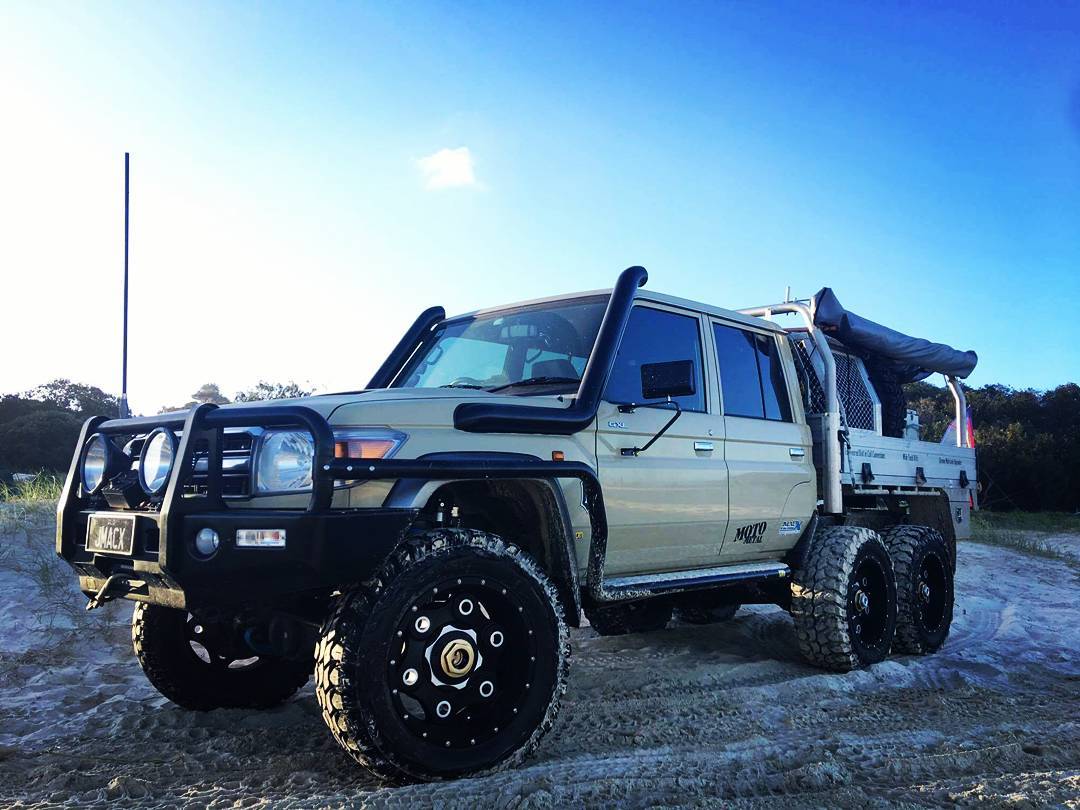 Picture credits: JMACX Off Road Solutions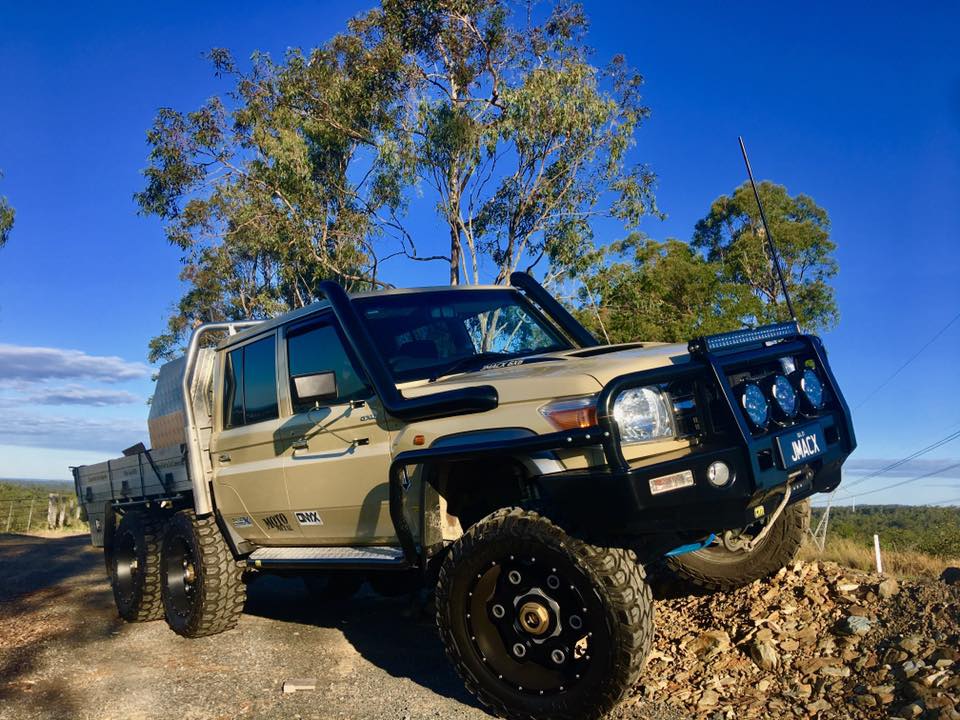 Picture credits: JMACX Off Road Solutions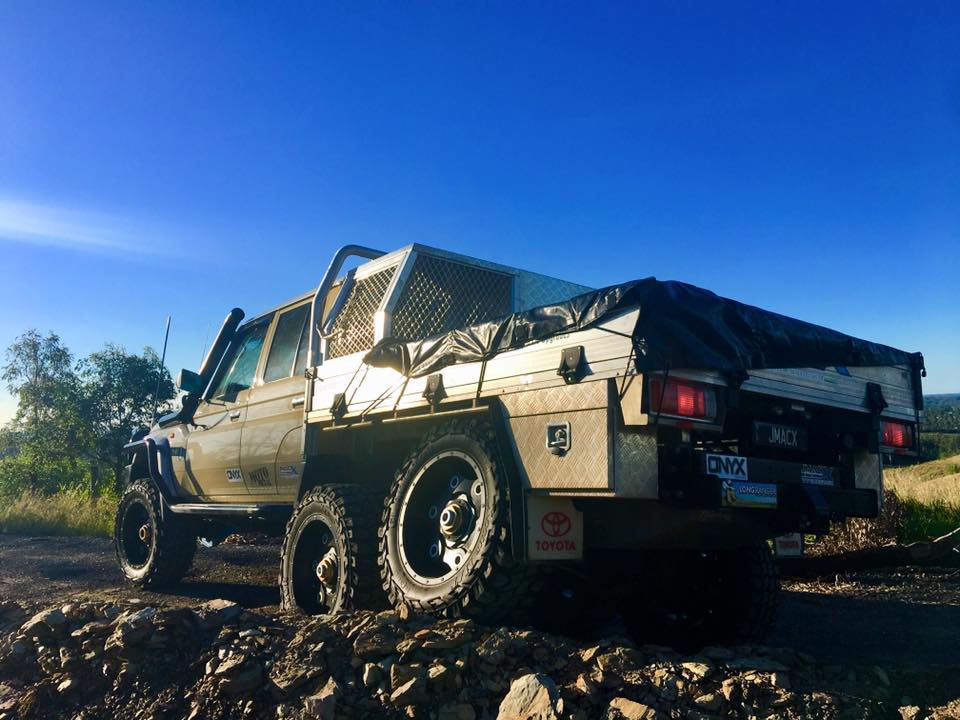 Picture credits: JMACX Off Road Solutions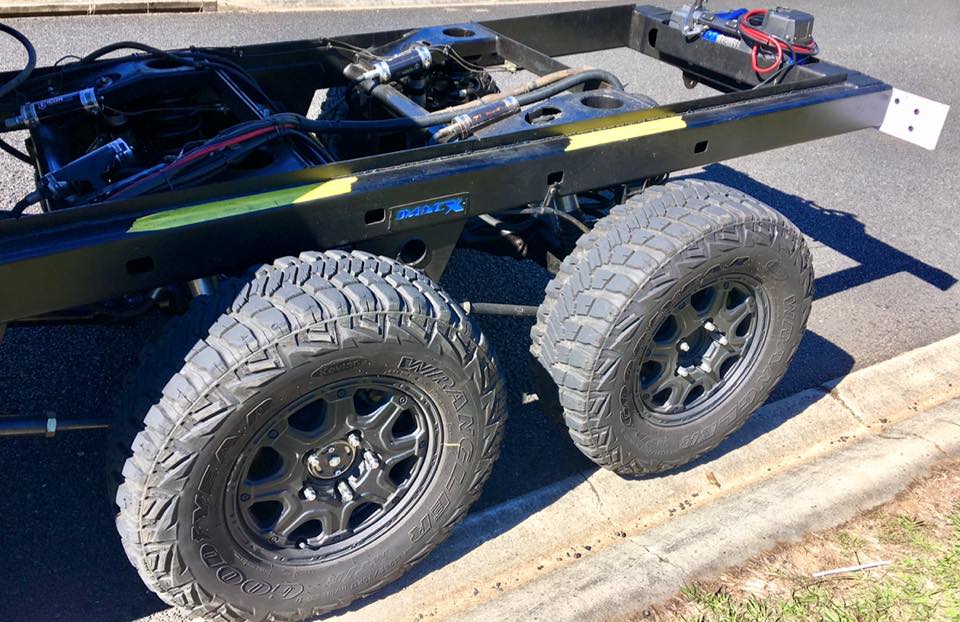 Picture credits: JMACX Off Road Solutions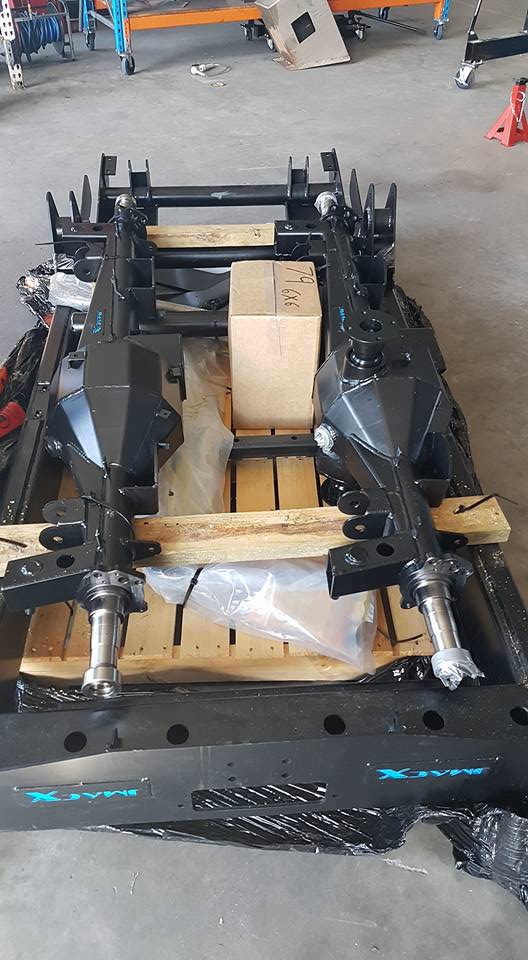 Picture credits: Australian Expedition Vehicles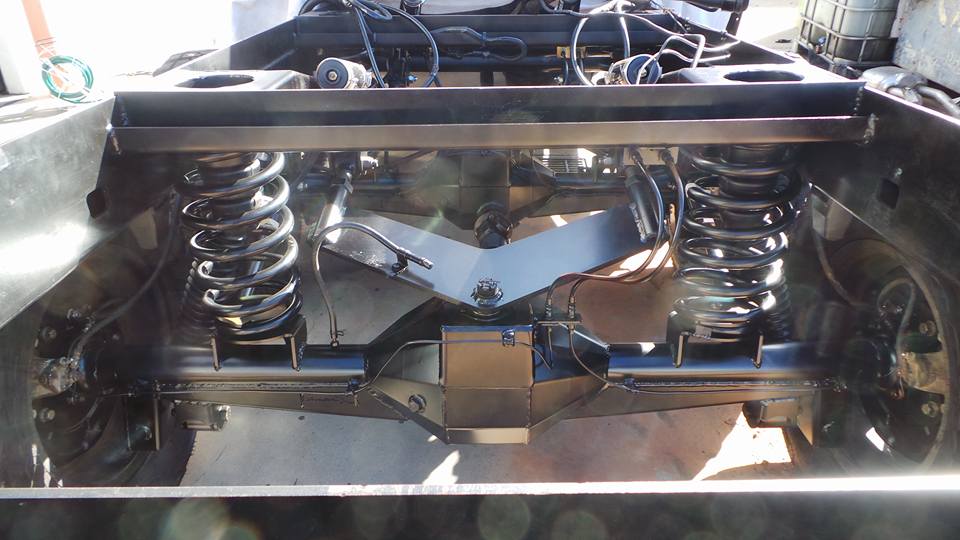 Picture credits: Australian Expedition Vehicles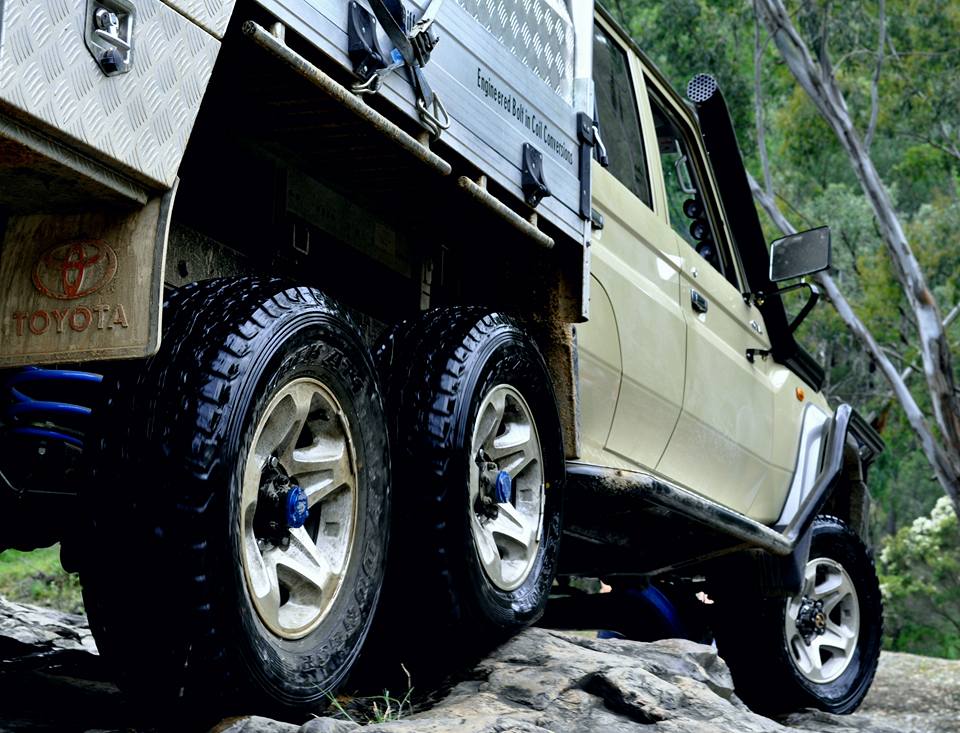 Picture credits: JMACX Off Road Solutions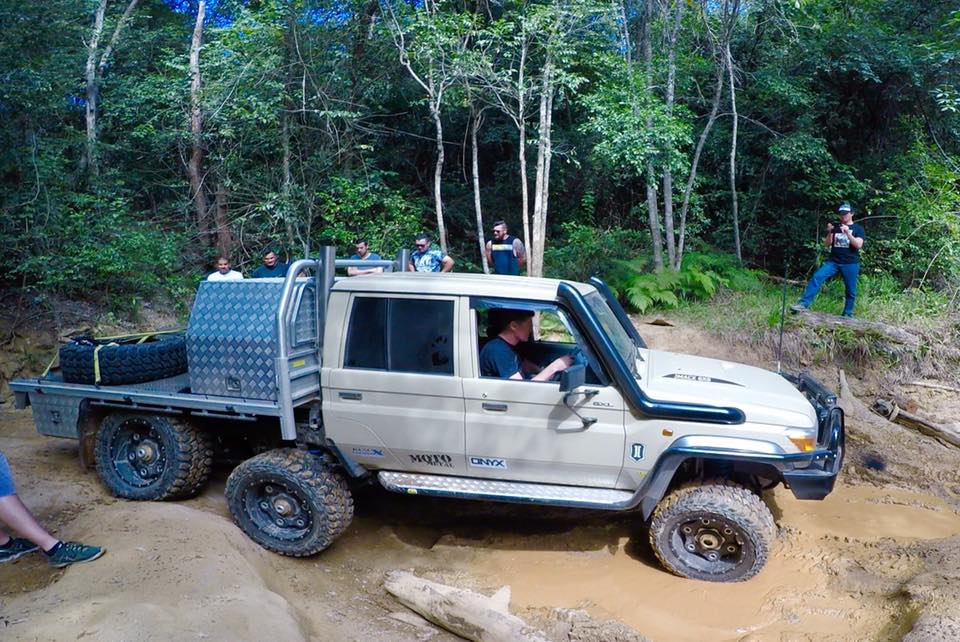 Picture credits: JMACX Off Road Solutions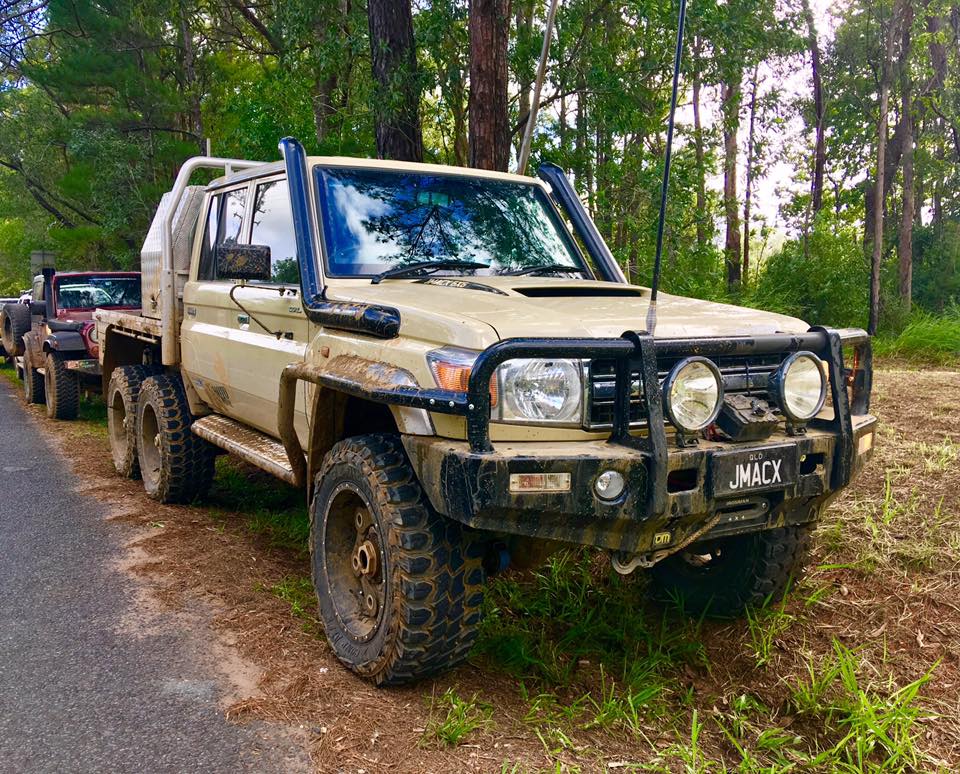 Picture credits: JMACX Off Road Solutions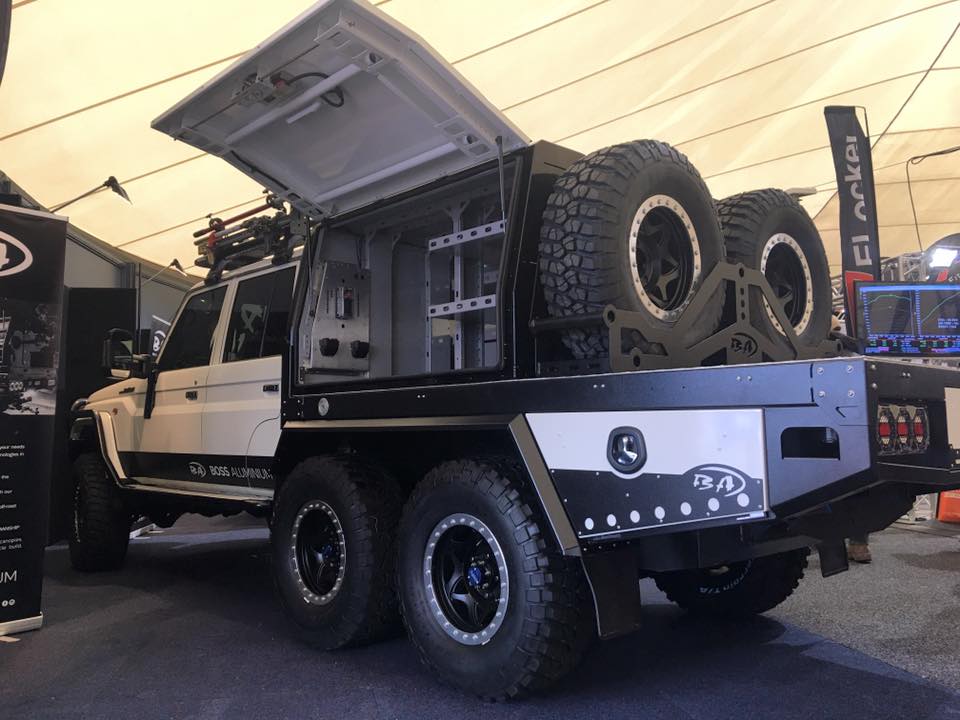 Land Cruiser 6x6 conversion by Boss Aluminium Pty. Ltd. (Picture credits: JMACX Off Road Solutions)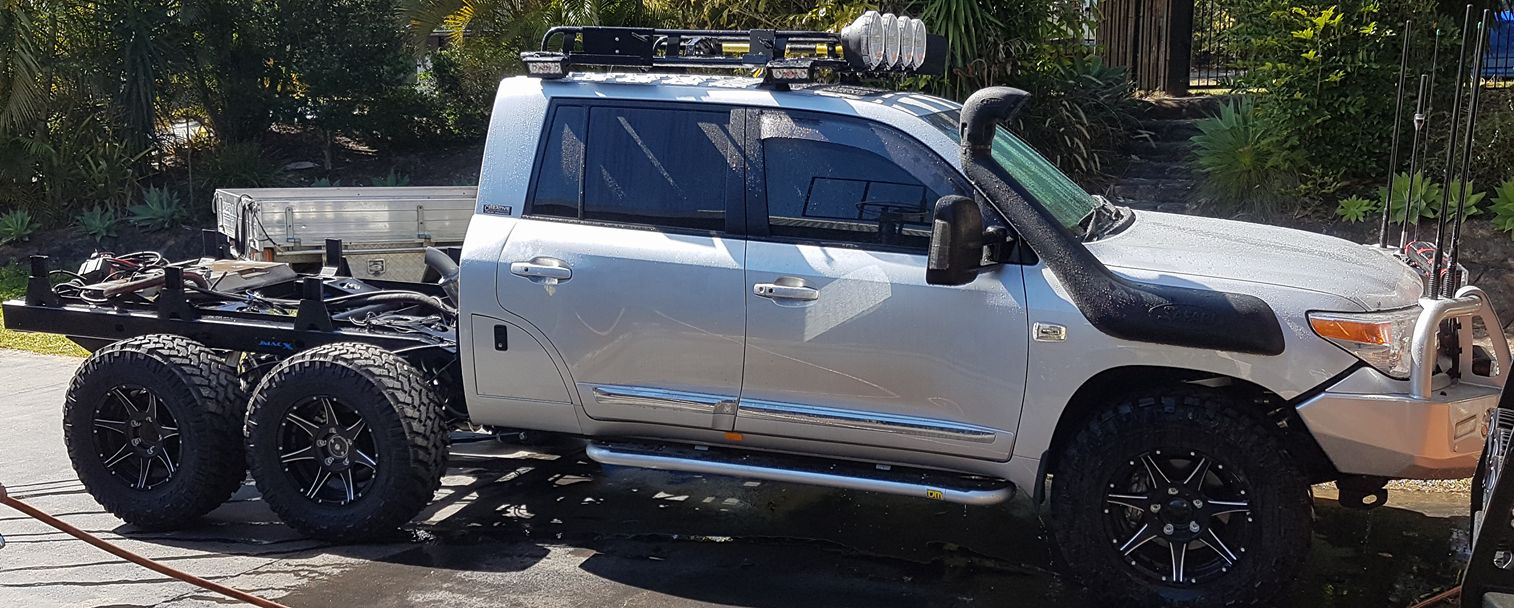 Land Cruiser 200 series 6x6 conversion (Picture credits: JMACX Off Road Solutions)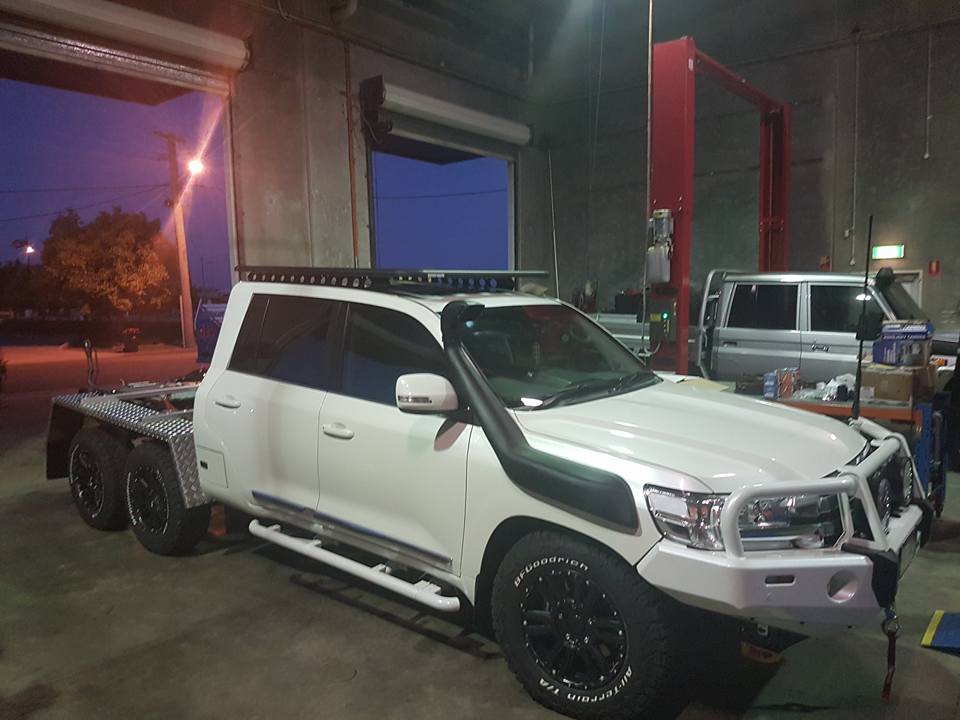 Land Cruiser 200 series 6x6 conversion (Picture credits: Australian Expedition Vehicles)