Land Rover 6x6 Prototype
Overview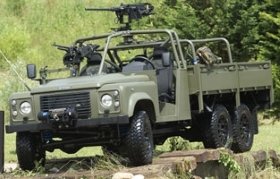 Land Rover did display this prototype vehicle in 2007. LR did show the vehicle on different occasions as a cargo transporter and slightly modified as a combat vehicle. This vehicle was an attempt by the British factory to update the Perentie design.
The vehicle does have a custom canvas top cab and a separate bed, which are both wider than the stock Defender. The engine is a 2.4 L Ford turbo diesel, which was the standard engine for the defender in 2007. The rear axle suspension looks identical to the one of the Land Rover Perentie. The first and second axle are permanently driven, the third can by powered by a vacuum operated clutch. (like the Perentie).
Specifications
engine: 2.4 L Ford Duratorq turbo diesel, 121 hp / 90 KW and 360 Nm /265 lb-ft torque.
gearbox: 6 speed manual gearbox
paylod: 3000 kg and optionally 4000 kg (heavy duty version)
190 mm wider than the stock defender 110 (wider axles)
coil springs on the front axle, leaf springs on the rear axles. The leaves on the rear axles have a load sharing mechanism.
Gallery