Mercedes G 6x6
Overview
The G 6x6 is the 6-wheel version of the Mercedes G-wagon 4x4, a vehicle which entered the market in 1979 and was in production till 2018. The 6x6 version is an army vehicle. It's not sold on the civilian market. Mercedes did replace the G-wagon in 2018. It is not clear if they will develop a 6x6 version of this vehicle.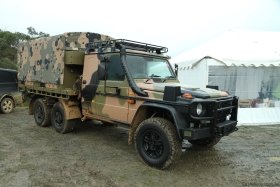 History
The development of the 6x6 version was disclosed in the 2007, when Mercedes did participate in a tender by the Australian Army. Delivery of vehicles started in 2012.
Some source indicates the main goal of the 6x6 version is to increase the payload of the Mercedes G-Wagon. Military customers demand higher payloads to compensate for the use of armour.
Other sources claim Mercedes did develop the G 6x6 for its launch customer, the Australian army. Mercedes lost a previous contract to Land Rover Australia in the 1980s, where the Land Rover 6x6 did proven to be a strong selling point. (Mercedes didn't have a G 6x6 in the 1980s)
Thanks to its G 6x6, Mercedes was able to deliver the replacements for the Land Rover Perentie (4x4 and 6x6) in 2012.
The vehicle is built at the Magna Steyr factory in Graz.
Base vehicle
The G 6x6 is based on the military version of the G-Wagon. The army version of the G-Wagon does have a basic interior and uprated suspension (and a number of small modifications). Mercedes sells the 4x4 version in some markets as the G-Wagon Professional. The 6x6 version does have the same engines, gearboxes, axles and front suspension as the 4x4 version.
Suspension
The rear axles have coil springs without any load sharing mechanism. The load is spread in a 60/40 balance, thanks to a different spring rating on the third axle.
6x6 drive
The second axle does have a build in transfer case, which sends the power in a 60/40 split to the rear axles. A diff lock is available. This transfer case was designed by Oberaigner.
Variants
Mercedes could deliver the G 6x6 in various body styles. A single cab, an extended cab, a crew cab, an open cab or special body (LRPV 6x6).
Customers
The first and largest customer is the Australian army. Which bought over 2100 vehicles, in a mix of 4x4 and 6x6 versions.
Another customer is the Finish army. The vehicle might have been sold to other armies as well. Some sources say the Swedish army is using a small batch G 6x6 dual cab vehicles.
The vehicle was not offered on the civilian market. But Mercedes did show a G 6x6 fire truck in Australia.
Specifications
Engine: Mercedes 300 CDI, 3 litre V6 turbo diesel (Common Rail), 135 kW / 184 hp, 400 Nm, Euro 5
manual and automatic gearbox options
2-speed tranfer case
5 differentials + lock
GVW: 6500 kg / 14330.05 lbs (The Australian Army does use a lower GVM)
fuel tank: 95L + 55L (the Rurveillance and Reconnaissance vehicle: 95L + 55L + 200L)
Links
Gallery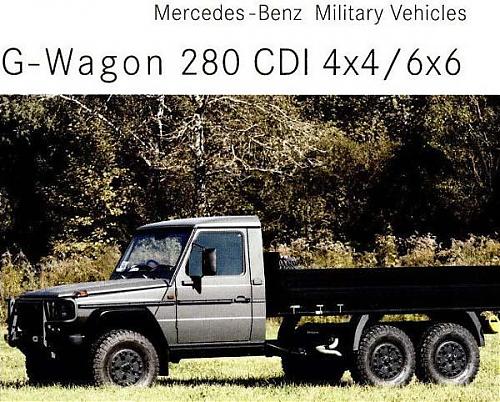 This is probably one of the prototype vehicles for the G 6x6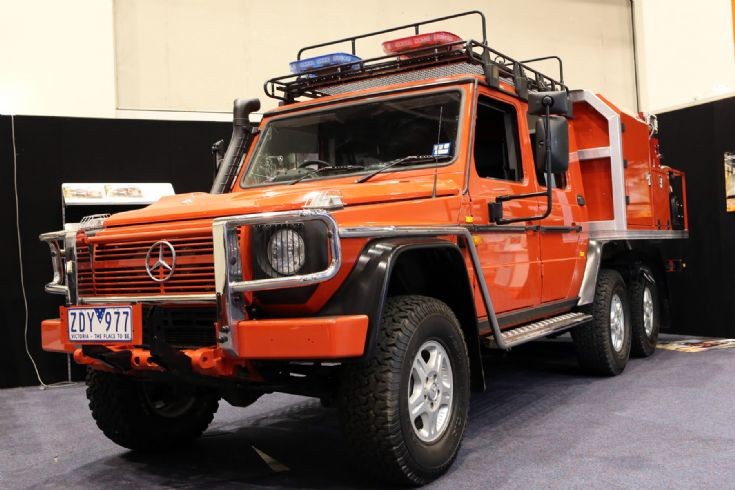 Australian fire truck on a Mercedes G 6x6 chassis