Jankel Fox 6x6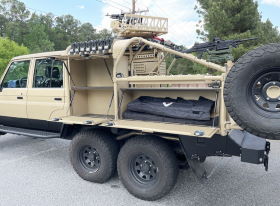 Overview
The Fox 6x6 is the six-wheel-drive version of the Fox family of light tactical vehicles made by Jankel. The base vehicle is a Toyota Land Cruiser 79.
Jankel offers this vehicle in various configurations.
Jankel
Jankel produces tactical military vehicles and internal security vehicles based on commercial vehicles. The chassis is from Toyota, Ford or Mercedes. Jankel does also produce armoured versions of civilian vehicles.
Other products include military seating.
Jankel Fox 6x6
The base vehicle is the Toyota Land Cruiser 79 or Hilux in a single cab or dual cab version, depending on the Fox variant. The Fox is available with various configurations and open or closed cabs.
The 6x6 conversion is by Multidrive Technology. Both rear axles have leaf springs with a load sharing mechanism to spread the weight on the rear axles.
The engine options are those offered by Toyota. A 6-cylinder 4.2L diesel, V6 4.0L petrol and V8 4.5L turbo-diesel for the Land Cruiser. A 2.8L turbo-diesel or 4.0L V6 petrol for the Hilux.
Specs
GVM: 6100 kg
Payload: Up to 3000 kg
Links
Gallery
Pictures