Land Rover Defender 150 6x6 and 170 6x6
Overview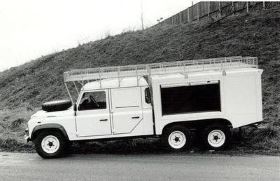 This vehicles were build by Land Rover special vehicles in the late '80 and early '90. These vehicles left the assembly line as a stock Defender 110 high capacity pickup or a Defender 130. The conversion to a 3-axle, 6x6 drive vehicle was done afterwards by the Land Rover special vehicles department.
Land Rover South Africa did also build a very limited number of 6x6 versions, based on the 110.
The Land Rover Perentie 6x6 by Land Rover Australia does use a different design and it is not based on the Land Rover 150 or 170 6x6.
Land Rover Defender 150 6x6 and 170 6x6 construction
Land Rover 150 6x6: based on the Defender 110
Land Rover 170 6x6: based on the Defender 130
During the second phase of the construction, the frame was cut and stretched to make room for the third axle. The rear of the frame does have a typical Land Rover shape. This section of the frame is lower than the section on top of the rear axle and it houses the fuel tank.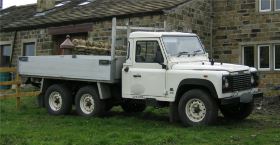 Both the rear axles have coil springs without a load sharing mechanism. The original rear axle in mounted in third position, the second second axle is a modified axle. It does have a pass through. Some sources claim is was build by Reynolds-Boughton.
The vehicles have a permanent 4 wheel drive on the first 2 axles. The third axle is drive via the pass through in the second axle, the drive is engaged via a clutch. This clutch in engaged when the central differential is locked. The rest of the drive line is stock.
The vehicles left the left the factory powered by the V8 3.5L petrol engine or the 2.5L turbo diesel 200Tdi engine (107 hp / 80 kW). The transmission is a 5 speed manual gearbox.
Only a limited number of vehicles have been build. Some of these vehicles did receive a specialised body afterwards, including workshop trucks and cherry pickers.
Given the the fact these vehicles are very rare, an number of these converted vehicles have been restored after their active use by the first owner. In some cases they did received a different body.
Specifications
Gallery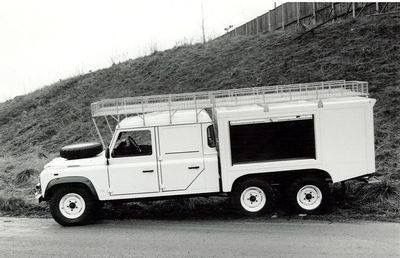 Land Rover 170 6x6 V8, part of an order for a utility company (Land Rover press photo)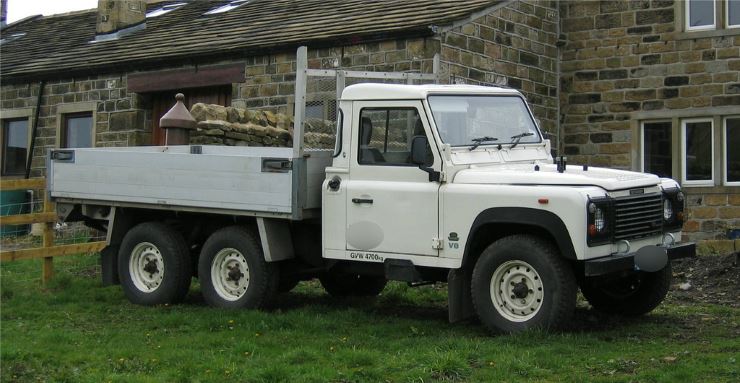 Land Rover 150 6x6 V8, 1988. It was in use by a UK government agency.