Mezcalarmor Matta Cobra 6x6
Overview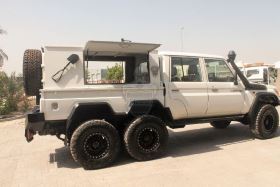 The Mezcalarmor Matta Cobra is an armoured cash-in-transit vehicle, based on the Toyota Land Cruiser 70 series double cab.
Mezcalarmor
The Dubai based company is a specialist in armoured vehicles. It offers armoured versions of various passenger cars, SUVs, vans and pickups. The company can also deliver armoured cash transporters and armoured personnel carriers.
Matta Cobra 6x6
Engines
The manufacturer offers petrol (4.0 V6) and diesel engine (4.5 V8) options for the 6x6. Both Toyota engines are tuned to handle the weight of the vehicle.
Chassis
A custom-made chassis from MDT (Multidrive Technology) replaces the rear of the chassis. Other parts of the frame are reinforced to handle the higher GVM. The three axles are from Toyota and have an electric locking differential. Both rear axles have a track with correction, to match the front axle.
Specifications
Wheelbase 3640 mm
Diesel Engine

4.5 L V8 turbo diesel
248 HP (185 kW) / 531.5 Nm (392 LB ft)

Petrol Engine

4.0 L V6 Supercharger
380 HP
Links
Gallery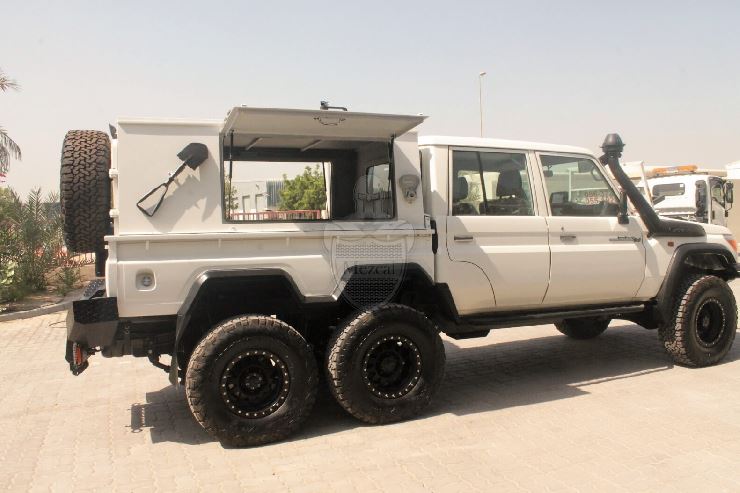 Mezcalarmor Matta Cobra 6x6 (Picture credits Mezcalarmor)