New Bureko 6x6
Overview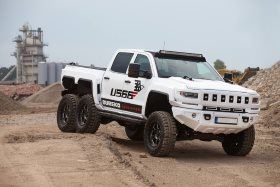 The new Bureko 6x6 (second generation) is based on the Chevrolet Silverado V-8 4x4. It does have 6-wheel drive, a lifted suspension and a range of performance upgrades. Bureko announced this vehicle in 2017.
The cab of the vehicle is either the Silverado Double Cab or the larger Crew Cab.
The vehicle and its upgrades do have a full TÜV homologation. (required to be road legal in Germany)
Engine
The base engine is the stock 420 HP V-8 from GM. Bureko offers many performance upgrades for this V-8 engine, ranging from 600 hp to 1000 hp. A supercharger is used. The top output versions have a larger displacement of 6.8 L. These are stroker engines (longer stroke). The manufacturer claims its engines are tested on the German autobahn.
An even higher output version of the V-8 engine might be possible in the future.
Chassis and suspension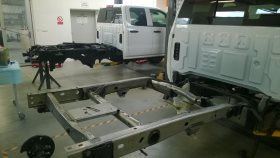 The vehicle retains its original chassis. Both the rear axles have coil springs. The vehicle is lifted from the stock ride height. The shock absorbers are heavy duty units.
Air suspension is available as an option.
6x6 drive
The power is sent to the second axle when driving under normal road conditions. The front wheels are automatic driven when the second axle loses grip.
Drive the third axle is engaged when the off-road mode is switched on. This axle is driven via an additional gearbox.
Options
The company offers an extensive range of options and modifications, including large skid plates front and back.
Specs
Engine:

6.2L V-8: 420 hp
6.2L V-8 with supercharger: 600 hp, 650 hp, 700 hp,
6.8L V-8 (stroker) with supercharger: 800 hp, 1000 hp

Gearbox: 8-speed automatic
Length: 5830 mm to 6200 mm
Width: 2190 mm (without the mirrors)
Height: 2100 mm to 2150 mm
Tare: 2700 kg (5952.48 lb) - 2800 kg (6172.94 lb)
GVM: 3490 kg (7 694.13 lb)
Max trailer weight: 3500 kg (7716.18 lb)
Front axle: 1572 kg
Rear axles: 2 x 961 kg
35" tyres on 20" wheels
Top speed: limited to 160 km/h due to the off-road tyres
Fuel tank: 98.4 L
Links
Gallery
Video
Pictures