Dodge Ram T-Rex 6x6
Overview
This prototype vehicle was presented in 1997. The V10 powered Dodge Ram 6x6 was a showcase of technology that later appeared in Ram vehicles. It never made it into production, despite the fact it was well engineered and journalists did like the way it drives.
The development on the Dodge Ram T-Rex (Technology Research Experimental vehicle) stared in August 1995.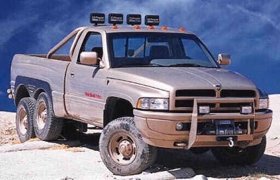 The marketing at Dodge did see the Ram 6x6 as a comfortable heavy tow vehicle. The V10 engine was chosen for its pulling power. By using a 6x6 drive, the vehicle could use single tires on the rear axle. This did improve the off-road capabilities of the vehicle and made the vehicle more manoeuvrable compared to a Ram 3500 (shorter wheelbase and narrower rear axle). The 3-axle setup did also result in a short rear overhang, which improved vehicle stability while pulling a heavy trailer.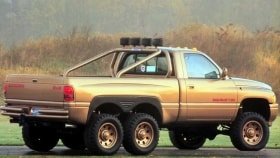 This prototype is much more than just a showcase vehicle. Journalist did have the opportunity to drive the 6x6 prototype vehicle. Which indicates Dodge was looking for feedback from the press. Some sources indicate that Dodge did build multiple test vehicles during the development of the T-Rex 6x6.
The vehicle never made it into production. The Dodge management didn't see a market for this vehicle. It would be much more expensive to build compared to a 3500 dually (twin rear tires). And the 3500 dually is still a decent compromise for most customers. The T-Rex concept vehicle was probably to niche market for a mass manufacture like Dodge Ram.
Some of the technology made it to production vehicles. The V10 petrol engine was later for some time offered on Ram trucks. The boxed frame is now standard on Ram trucks and the air suspension is now available as an option.
Specifications
Engine: 8L V10 8.0L, 497 hp
Transmission: Chrysler 47-RE "uprated"
Transfer case: NVG 244 HD
axles: Both front and read axles are Dana 60, 4.10:1 ratio
The vehicle does have a second transfer case (Dana), mounted in front of the second axle. This transfer case does split the power over the 2 rear axles.
Gallery